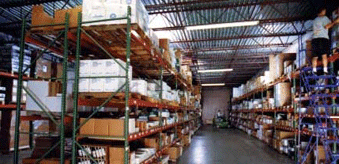 Streamlined distribution services that save you time
Our climate-controlled warehouse will keep your pieces fresh and in perfect condition while saving you time, space and money. For distribution, our shipping department is ready on short notice. We have the electronic resources to select the most efficient method to deliver your jobs on-time and in perfect condition.
Warehouse & Online Inventory Management Projects
In 2012 we were contracted by a national restaurant chain to print, house and maintain their inventory of marketing and human resources materials. The project consisted of printing and warehousing their materials and developing a personalized online store front where their restaurants could order. Some materials were warehoused while others were ordered and printed on demand.  The print management online ordering system provided reports to monitor inventory levels and usage so that they could make informed decisions on future purchases.
In 2018 we entered into a contract with a national health and wellness organization to warehouse and manager their inventory of branded boutique bags.  The project involved the coordination of manufacturing the bags in China and also developing an online ordering store front for their wellness centers to use.  This gave upper level management the ability to monitor inventory levels and track usage for each center.